Sidecars Get Air
International Challenge
The sun shone after lunch so there was a full field of riders for Qualifying One on the International Challenge.
Results of Q1
1. Cam Donald (AUS) 1:38.368
2. Beau Beaton (AUS) 1:38.771
3. Jeremy McWilliams (UK) 1:39.184
4. Shawn Giles (AUS) 1:39.245
5. Mike Edwars (UK) 1.40.211
Cam Donald
Beau Beaton
Jeremy McWilliams
Update at Lunchtime
The rain has stopped and is looking promising for the afternoon's practice and qualifying.
Chatting with Ryan Farquhar from the UK Challenge team. They have a wee problem... Someone took a gamble that it would be dry at Phillip Island. I wouldn't take that bet!! So... no wet tyres in the UK team garage!! Oops. They are praying hard it dries up. Their current strategy is to do one qualifying run tomorrow and hope the sun comes out!!
Ryan Farquhar
Cam Donalds bike
Team USA
Look out The Boss is here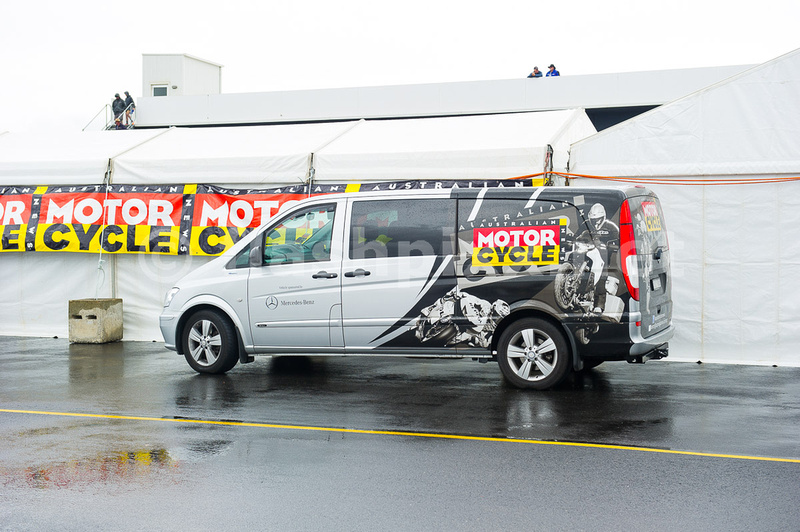 Opening Post
Day one of the Classic and we are met with "classis" Phillip Island weather. The rain is falling however fortunately there is little wind and temperatures are mild. So not terribly unpleasant, but certainly irksome for the riders. Chatting with the UK contingent, who you might think were accustomed to riding in the wet, are all asking "is it going to stop?"!!
Pit Lane - damp and not much activity
A couple of the UK contingent are in the pits early getting ready .
Jeremy McWilliams
John "McPint" McGuiness
The Leathers